12 Smokin' Hot Pics Of The Newly Single Demi Lovato
Last week was a tough one for Hollywood love. First, we got the news of Taylor Swift and Calvin Harrismutually calling it quits. As if that wasn't bad enough, news broke that Gigi Hadid and Zayn Malik were also no longer an item. Finally, in the most shocking revelation of them all, perhaps because it was the longest relationship out of the three, Demi Lovato and Wilmer Valderrama decided to go their separate ways after six years of being together.The singer and actor shared a statement they individually posted on their own Instagram profiles saying they both decided they are ultimately better off as "best friends." The post read:
"This was an incredibly difficult decision for both of us, but we have realized more than anything that we are better as best friends. We will always be supportive of one another. Thank you to everyone who has offered us kindness and support over the years."
The 23-year-old was obviously infatuated with her 36-year-old boyfriend, according to her social media channels. She was seen often posting photos of the two cuddling or traveling together while writing captions that displayed her love and affection for him.
No one saw these two splitting up for good any time soon even though sources close to the couple say the breakup was a longtime coming. Apparently, Valderrama had different views on the relationship as opposed to Lovato. When asked if they would walk down the aisle, the actor commented, "No, I don't think we're in that space." When the same question was asked of the singer, she had a very different response. "I am very, very in love with him. I think we will probably wait a little bit longer," she said. "But if he asked tomorrow I would say yes." Unfortunately, it takes two to tango.
But there is a bright side to the sad news. The "Heart Attack" singer is single and she is looking better than ever these days. She has been open about her eating disorder and addiction but has gotten back up. The singer is now a mental health advocate and feeling more confident than before. Her confidence definitely shines through from performances to TV appearances to paparazzi shots and more. Lovato is undoubtedly a catch so take a look at these 12 hot photos of the newly single brunette.
12. 2014 Video Music Awards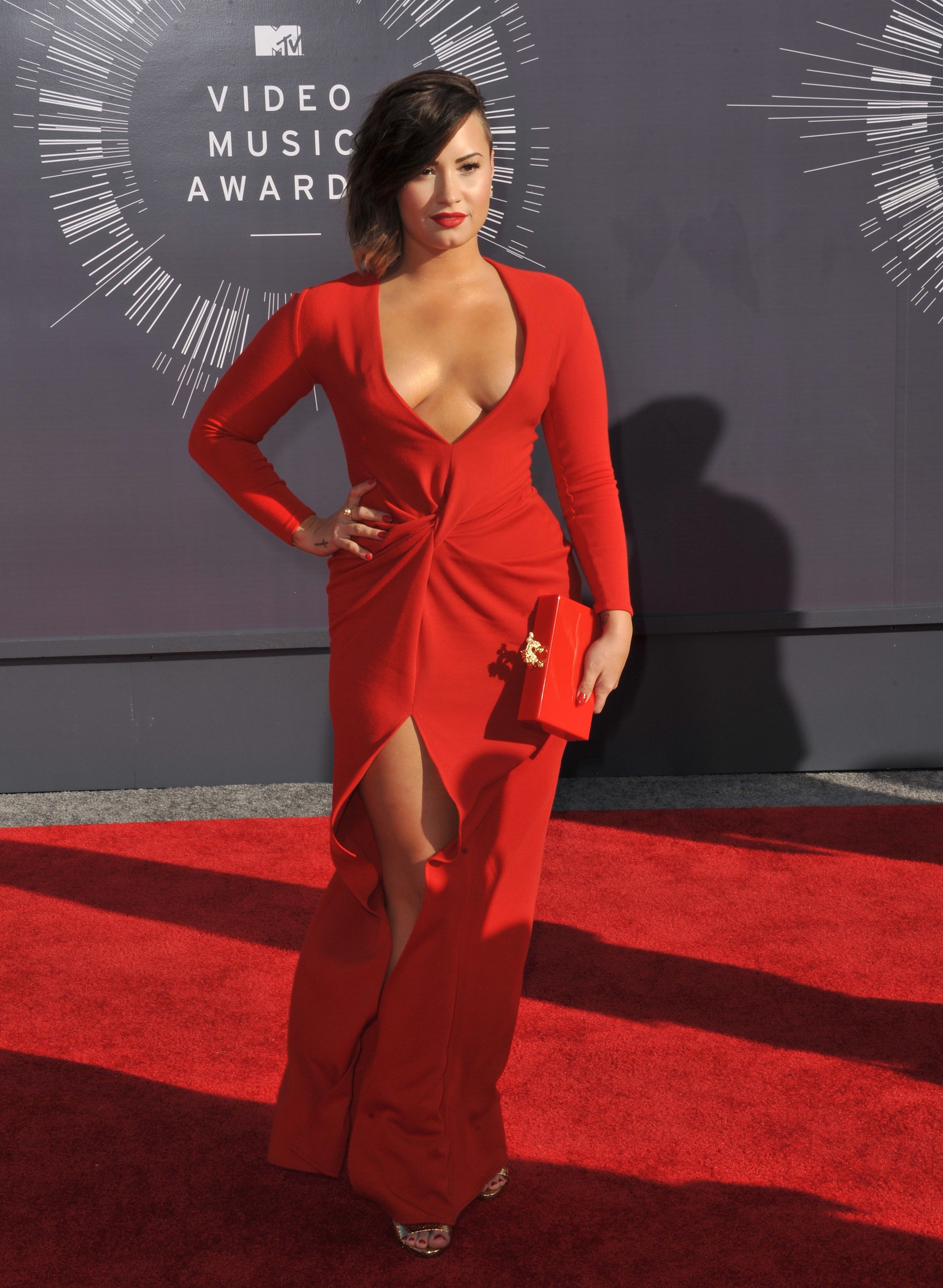 At the 2014 MTV Video Music Awards, Demi Lovato showed up red hot in this Lanvin number. The dress was the perfect item to hug her curves in all the right places. The high slit wasn't too much or too little. It gave us just the right amount to want more from Demi. The rebellious star decided to go with a half-shaved hair look which complimented that plunging neckline perfectly. Everything looked right on the 23-year-old that evening. The "Skyscraper" singer even took to Instagram with a collage photo of her past VMAs looks including this one, comparing how far she's come from the days of her eating disorder. She said, "Fortunately looking at the picture of myself in the red dress yesterday, I not only feel so grateful for the love and support I've had from fans, friends and family, but… I also feel.. beautiful." She looks and feels beautiful and that's all that matters.