15 Celebs Who've Had The Most Car Accidents [+Photos]
Celebs Who've Had The Most Car Accidents – Celebrities tend to own some of the nicest cars on the market. These celebs represent the good, the bad, and the downright dangerous. Collectively, their driving habits tend to keep local police officers as alert as the paparazzi. In many cases, it has not been easy for the celebs, either, who have been in and out of rehab to combat detrimental addictions.
Still, there is a mite of humanitarianism; sometimes celebs can surprise us and do the right thing, even when out of the spotlight. Some of the stars featured here, out of the goodness of their own heart, confessed to otherwise hit-and-runs, and in doing so, have given their insurance companies as much material as they give the media.
With all the accidents these VIPs are causing, it's still probably best if they resort to the long-standing tradition of having a chauffeur. We know, it must be painful to let anyone else behind the wheel of one's Maybach or Mercedes, but chauffeurs tend to have such reassuring countenances and chiseled jaws. It's also a more practical option to keep celebrities off the street than personal autobahns equipped with go-kart security.
Below are fifteen celebrities you definitely want to watch out for on the road!
15. Rowan Atkinson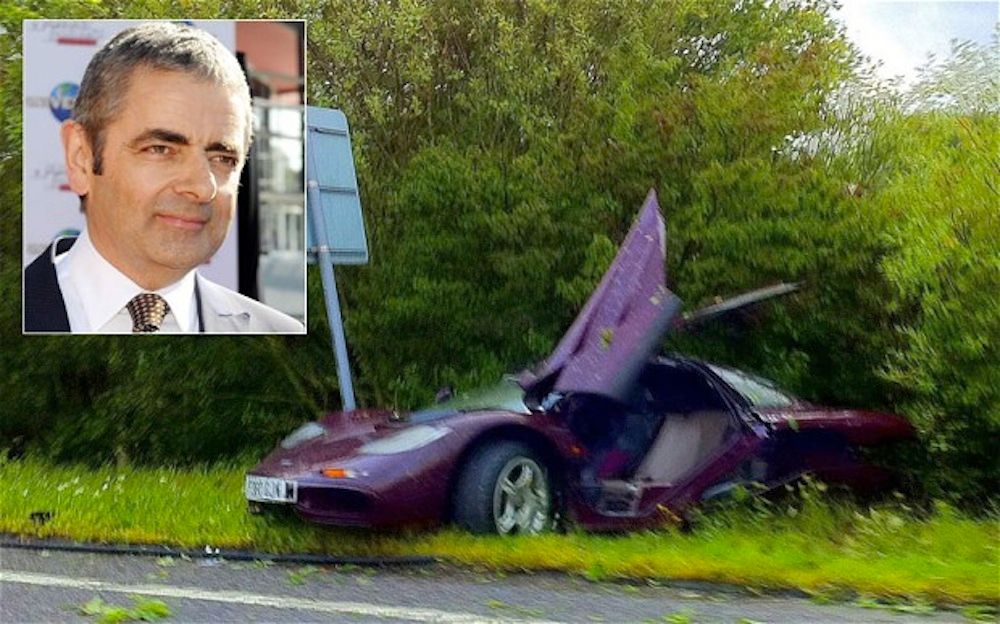 Better known as Mr. Bean, this Hollywood icon has crashed his McLaren F1 twice.He purchased the burgundy sports car back in 1997, and first crashed it into a Rover. The car had a V12 engine and could travel at up to 240mph. Later in 2011, he crashed into a tree and a road sign, causing an injured shoulder and costing his insurance company £910,000.
According to CNBC, the car, made by the famous British luxury automotive company, sold for $12.2 million. The car is equipped with Formula 1 technology. Maybe Atkinson wanted to get rid of his car because it has since been out-performed by McLaren's P1, which accelerates from 0 to 300 kilometers per hour in just 16.8 seconds, which is 5.5 seconds faster than Mr. Bean's former road ally. Well, for whatever reason, Atkinson has told the media that he will never own a Porsche so there's that.